Publication of a new release of Pizzicato 3.6.2
Harmony and Counterpoint
It was a long time since we last published a new intuitive music composition tool. We were preparing this one since quite some time.
Our recent articles on counterpoint may have attracted your attention, as we were putting quite some focus on that. We will of course continue the tutorials on practical counterpoint in the next few months, but they will take another dimension, as with this new Harmony and counterpoint module, you will be able to do the exercises much easier and the program will offer you a unique way to compose melodies and accompaniments more intuitively.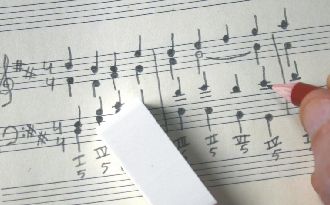 The Harmony and Counterpoint is natively included in the following versions 3.6.2 of Pizzicato:
Pizzicato Composition Light
Pizzicato Composition Pro
Pizzicato Professional
It can be purchased separately, in which case it includes Pizzicato Light (in fact a little more flexible version than Pizzicato Light).
The Harmony and Counterpoint software can also be used in combination with the following versions of Pizzicato, extending the score limitations and other features available within the program:
Pizzicato Choir (targeted for choir music with 4 staves, unlimited measures and pages)
Pizzicato Keyboard (targeted for piano, organ and synthesizer music, up to 4 staves)
Pizzicato Guitar (up to 4 tablatures and/or staves)
Pizzicato Beginner (general purpose music notation program, up to 16 staves)
Pizzicato Notation (up to full orchestral scores)
Here is a short presentation of this module.
Harmony and counterpoint for hundreds of years have been the basics of music composition. Jazz, rock and entertainment music are also based on these principles.
Even modern electronic music styles often use the basic schemes of harmony. With this software, you will be able to create solid and rich harmonic and melodic structures that will give a new dimension to your music compositions.
Applied to a choir, this software will help you to harmonize a melody interactively and to create the melodic lines for each part. You will be able to produce custom arrangements of your songs. You will be surprised at the easyness with which you will produce nice sounding arrangements.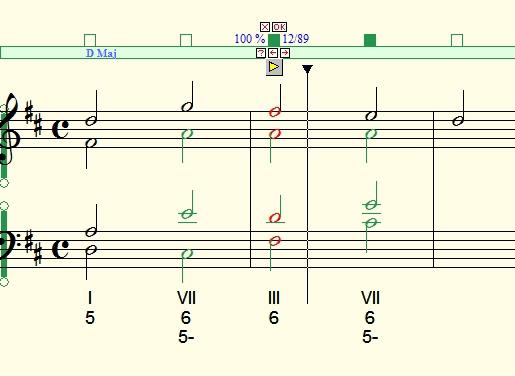 Starting from your melody (or importing a melody from a MIDI file for instance), the software will propose note by note, or groups of notes at a time, the possible combinations for the other voices. At any time, you select the combination that best fits your inspiration, by listening to it. Using this method, you will easily create a final arrangement that respects the rules of harmony and that corresponds to your musical inspiration.
Select the sounds of instruments from a quality sound library, according to the style of the music you want to compose.
Print your composition or export it as a PDF file, a MIDI file, a MusicXML file or directly into an audio WAV file. You can also work your composition further into any software appropriate to your musical style.
Once the harmonic structure is established, create rhythmic variations, for instance to make the bass more percussive or to add motion and interest to the other voices.

The rules of harmony help you to work with fifth chords, sixth chords, sixth and fourth chords, dominant seventh as well as the other types of seventh. The rules of counterpoint can be used for 2, 3 or 4 voices counterpoint.
An ideal companion to a harmony or counterpoint course, this software will help you write exercises in an interactive way. It will also detect the most common errors (parallel fifths and octaves, incomplete chords, dissonant intervals, notes exceeding the range of a voice,...).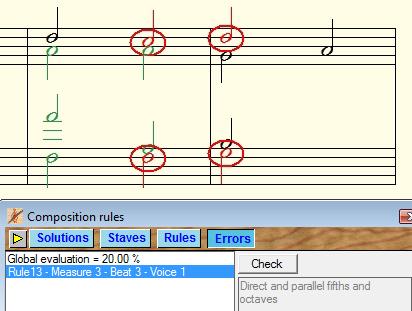 You will find a detailed description of this module here :
www.arpegemusic.com/manual36/EN860.htm
Alternative Music Notation
Developed with the collaboration of Christian Pörksen, specialist in alternative music notation systems, the Alternative Notation module helps you explore non conventional musical notation systems based on numbers.
The HMN-Jianpu (HMN = Hamburg Music Notation) is implemented through the use of 12 symbols (digits and letters), making it easier to learn, to read and to transpose.
The traditional Jianpu system can also be used, as well as a few others that can be customized.
The software lets you display any existing score already written in standard notation. You can enter the music directly in HMN-Jianpu, in Jianpu and in customized configurations. It displays the music in both standard and ciphered based notation, next to each other.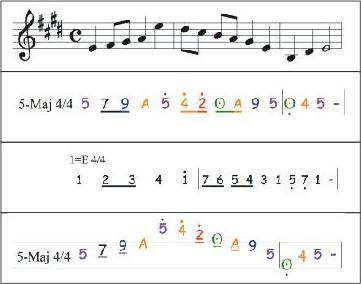 The Alternative Notation module of Pizzicato is not part of the standard versions of Pizzicato. It can be purchased separately and will then work with Pizzicato Choir, Light, Keyboard, Beginner, Notation or Professional. The type of score that can be created and edited is dependent of the Pizzicato version.
By default, the Alternative Notation module can be purchased as itself, with no other versions of Pizzicato. In that case, the features of Pizzicato are those of the Light version (combined with the Alternative Notation features).
If you already have Pizzicato, you can simply buy the Alternative Notation module. You then receive an additional license/serial number. Go in the Options menu and select Program version/Upgrades... Then click License registration and enter the license/serial numbers and validate. The Alternative Notation module is then activated.
If you don't have Pizzicato, you can buy the basic Alternative Notation module as a stand alone program and it will offer the same possibilities as Pizzicato Light.
You can also buy a bundle of one of the above Pizzicato versions with the Alternative Notation module. The new features will be applicable within the possibilities of the Pizzicato version you choose.
Here is a short description of this module.
Beside what we commonly call Standard Music Notation, there are several other ways to represent music on a sheet of paper. As early as 1743, Jean-Jacques Rousseau developed a new music notation system that was more logical and easy to use for beginners.
With this software, explore various alternative music notation systems, like HMN-Jianpu, Standard Jianpu and a few others.
Customize the symbols and colors assigned to the notes, so as to design your own alternative notation system.
The purpose is to represent the 12 notes (C, C#, D, D#, E, F, F#, G, G#, A, A# and B) that correspond to one octave of the music keyboard (7 white keys and 5 black keys) with 12 different symbols, so as to make it easier to learn, play and/or transpose.

Enter the music directly in alternative notation as well as in standard notation by using the shortcuts for notes and rhythms.
Combine with any MIDI keyboard connected to the computer or use the on screen music keyboard.
Display both alternative notation and standard notation next to each other.
Enter the lyrics, text blocks and other music symbols.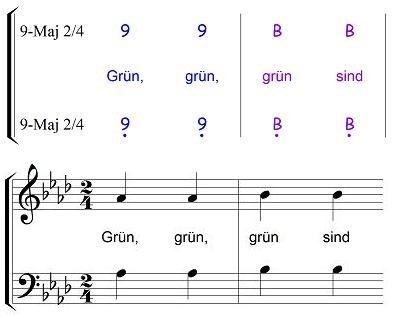 Print the music, export it to PDF, MIDI, MusicXML and audio.
One of the advantages is that a melody will avoid the difficulty of the key signature when it is transposed.
Transposition is done simply by adding a fixed value to the melody.
In Jianpu, number "1" refers to the tonic of the scale and a melody is always the same series of numbers in all tonalities.
You will find a detailed description of this module here :
www.arpegemusic.com/manual36/EN284.htm
Next month, we will go back to our counterpoint tutorials. Since then I wish you a nice discovery of this new Pizzicato version 3.6.2 !
Dominique Vandenneucker
Designer of Pizzicato.