Since version 3.1 Pizzicato has functions designed to work directly with sound.
The functions described in the other sections are related to the use of MIDI to handle music and hear the notes. Pizzicato plays the score by sending a series of MIDI commands to the sound card of your computer or to your synthesizer.
However, there are cases for which MIDI may not be used. For instance, if you want to add your voice to an arrangement, or if you want to record a real instrument and keep the sound exactly as it is. In such a case, the program must record and store the sound itself. It is the purpose of the Pizzicato audio functions.

With Pizzicato, you can associate one audio track (or several according to the version) to a music score. You may write the score of a song and record your own voice through a microphone connected to your computer, while listening to the music.
You may visualize the beginning of the audio tracks in relation to the score measures. The audio tracks may be shifted to coincide with a specific measure of the score.

The Pizzicato conductor view makes it possible to create a full arrangement made of several distinct and independant audio tracks as well as one or more scores played in MIDI. The audio files are not limited to your voice or to an instrument. You can for instance create an audio track for a video, by adding noises and effects that you can find on the Internet or in audio libraries.
Pizzicato comes with its own audio editor to help you manage audio. With a double-click on an audio track (or by using the "Open an audio file" menu) you open a window that displays the sound wave and lets you:
Modify volumes and create smooth progressions
Mix/combine/copy/paste/delete parts of sound waves, from one or several audio files
Draw the wave directly with a graphic tool
Change the time scale progressively (to create special effects like pushing your finger on an old vinyl disc to slow it down, changing the character of your voice,...)
Explore multiple and parametered echoes
Invert time
Add music notes and glissando
With these functions, you may correct, adapt or modify your own audio recordings (remove a too long silence, duplicate a passage, adjust volumes, add echo to your voice, add effects,...).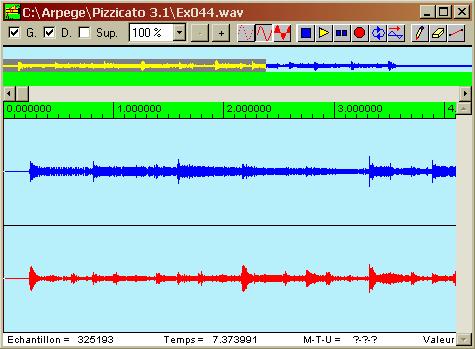 Finally, Pizzicato may export an audio file (with the "WAV" extension) containing the sound result of the score played in MIDI, combined with the audio files associated to the score. This file may then be burned on a CD with your favorite CD burning software. You may then listen to your compositions and arrangements on any CD reader and distribute them to your relatives.
All Pizzicato versions (but not the evaluation versions) come with a full sound samples library from real instruments. This is the Papelmedia library. The score can be played or exported by using that library, so as to improve the sound rendering of your compositions. You can listen to several samples of this library at:
www.papelmedia.de/english/mp3.htm
With Pizzicato, you go from the idea to the score and then to the audio file to create your own music CD.
==> Get Pizzicato today!
Order Pizzicato today by clicking here